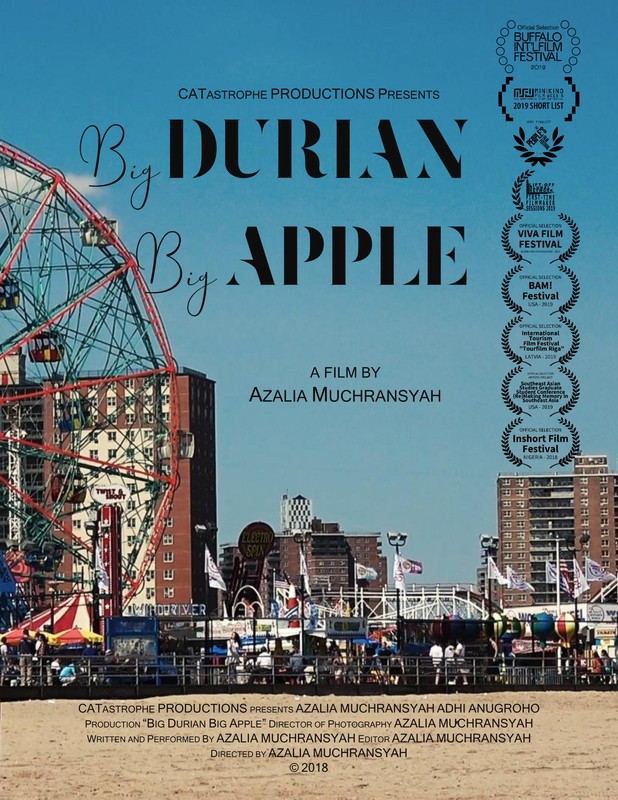 Directed by
Azalia Muchransyah
Country of Origin
Indonesia
Runtime
5:03

By juxtaposing footage from "the Big Apple" and poetic narration, Big Durian Big Apple is a visual love letter to my hometown of Jakarta, Indonesia (fondly called "the Big Durian" by its denizens).
Director Biography – Azalia Muchransyah
Azalia Muchransyah is pursuing a Ph.D. in Media Study at University at Buffalo (SUNY). She is a recipient of 2017 DIKTI-Funded Fulbright Ph.D. Scholarship. Her area of interest is advocacy media, specifically AIDS Media in Indonesia. Her short films have been officially selected and screened in international festivals and academic conferences. In 2019, she is chosen as a Social Impact Fellow at University at Buffalo as well as a Finger Lakes Environmental Film Festival (FLEFF) Diversity Scholar at Ithaca College. She is also a contributor for vcinemashow.com, an online platform for Asian film, media, and culture. To know more about her works, visit https://azalia.myportfolio.com/.