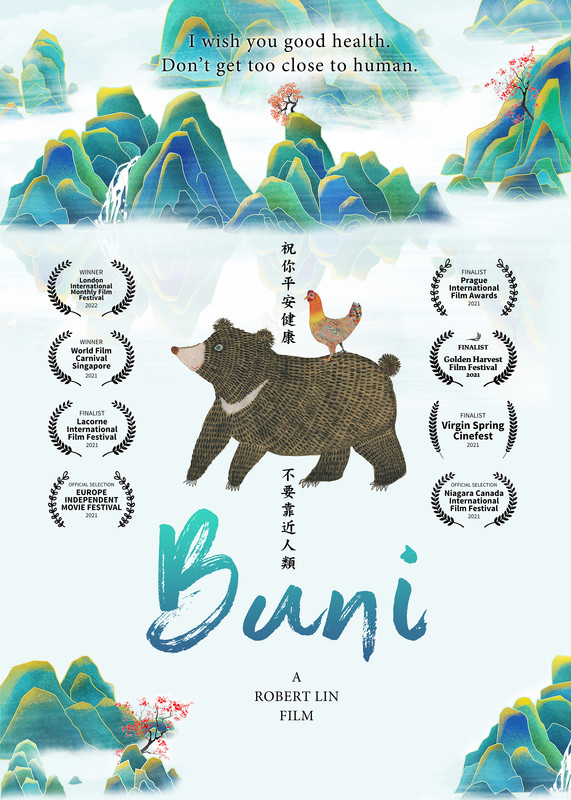 Directed by Robert Lin
Country of Origin- Taiwan
Runtime- 01:23:00
"Formosan Black Bear is more precious than panda!"
The entire species is marked as "vulnerable" by the IUCC ( International Union for Conservation of Nature). Classified as "endangered" by the Taiwan government, the species is being pushed to the brink of extinction by illegal hunting and land clearing. We estimate there are between just 200 to 600 black bears over the entire island.
At the beginning of the film, we witness a baby black bear (BUNI) was found left in the wild without its mother to care for it. Then it was taken to Endemic Species Institute for treatment.
Researchers form by professor Hwang designed a simulated forest to train it in survival skills. They also prepared wild fruits and vegetables which is not bought from the market for the bear to feed on.
After 4 months treatment, BUNI was moved into a fenced enclosure that simulated a wilderness area where we call it school, BUNI learn all the lesson here. Such as climbing trees and make its own den. BUNI also learn to search for food, hunt and other survival skills.
One of the lesson BUNI took is to evade humans and traps. This is very sad that we are the major hazard for BUNI. Therefore, professor Hwang and TBBCA held two advocacy meetings with tribe Bunun community in order to avoid encounters with bear and educate people before its release.
With the Bunun tribal elder's prayer and the assistance from a National Airborne corps helicopter, the bear cub went back home. This is the perfect result of public and private sectors joining in a common effort.
But now the question is: Is BUNI safe and doing OK right now?
Director Biography – Robert Lin
Director Robert Lin grew up in Taiwan. Upon graduation from National Tsing Hua University in Economics, he decided to join TV broadcast field and started out from the bottom of the business. When the TV business has been booming in Taiwan, Robert produced several TV programs and gained hands-on experience of video production. Meanwhile, Robert transferred field to 3D animation and was a pioneer introducing 3D animation into TV drama (Dharma TV series 1999) . After years in real business, Robert returned to school obtaining his MFA degree with a full scholarship in Syracuse University, New York. During his study in US, he joined renowned artist Carrie Mae Weems' film project. The work was screened later at The Museum of Modern Art (MOMA). After returning Taiwan in 2004, Robert joined digital TV company and was able to explore the application running on set-top box platform. Robert is now running his own production company. Up to now, the company has produced more than 1,000 commercial videos for diverse clients