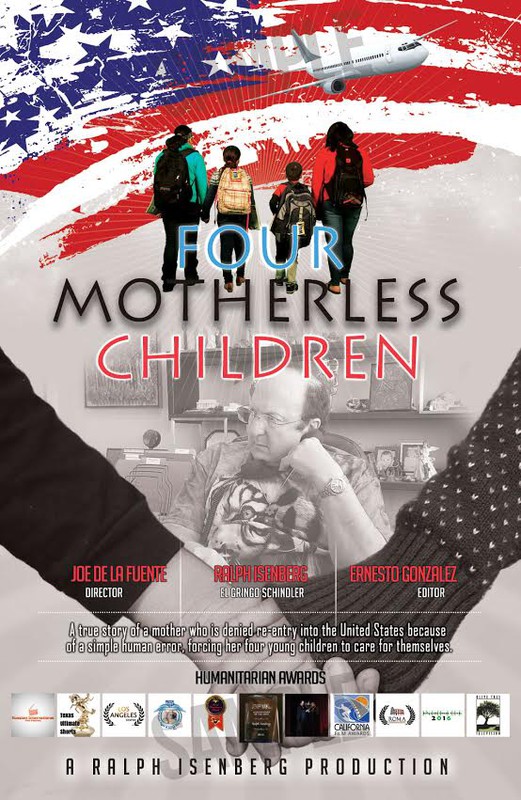 Directed by Ralph Isenberg, Joe De La Fuente
Country of Origin – United States
Runtime- 60:34
This film continues where the "Discovery of Santos"; the second documentary in the "El Gringo Schindler" series left off. The third movie tells the heartbreaking story of four children, all minors and citizens of the United States, forced to fend for themselves for eleven months while their mother found herself exiled in El Salvador for making a simple human error. The mother broke no immigration law but simply read an immigration form wrong. The fact that the mother had already been in the United States for seventeen years under "Temporary Protected Status" and her renewal for an additional year was already approved was completely ignored by the United States Government.
Three of the four minor children had flown with their mother to El Salvador to attend to their grandma who had suffered a serious heart-attack. Little did anyone expect that on the day of return to the United States, the three children would be forced to fly to the United States, as unescorted minors. Their mother was left behind, in total disbelief, not knowing how she was going to get back to the United States. The error made by the mother was simple and could have easily been fixed in El Salvador by the United States Government with a phone call. Instead, an odyssey that would last nearly eleven months was about to play out. The children endured living alone until they heard about the work of the "El Gringo Schindler" on television and made their way to his office on a Saturday, not knowing if the "El Gringo Schindler" would even be in his office. The children knew better than to skip school during the week when the "El Gringo Schindler" and his staff would be available to help. By some miracle, the "El Gringo Schindler" just happened to be in his office for a few minutes when the children arrived. Upon hearing the story of the children, the "El Gringo Schindler" made a pledge to the children that he would get their mom home no matter what it took. At the time, the "El Gringo Schindler" had no idea that his efforts would test every bit of knowledge he possessed about immigration and put his own personal safety in jeopardy to deliver his promise on New Year's Day, 2016.
Director Biography – Ralph Isenberg, Joe De La Fuente
Ralph Isenberg, aka "El Gringo Schindler,™" has no formal filmmaking experience. After successful careers in hotel & restaurant management and commercial real estate development, Isenberg turned his attention to immigration reform. His efforts derive from heritage and experience. The oldest son of refugees from Nazi Germany, Isenberg learned from an early age to be mindful of the plight of others. A life-changing experience with extreme family separation of his own transformed Isenberg into a protagonist whose activism has benefited scores of foreign national families in need. With no legal training, Isenberg can make the most complex arguments to those that oppose the reforms he seeks for others. The efforts put forth by El Gringo Schindler™ are unpredictable as he strives to make those he opposes feel uncomfortable.
Isenberg works on several dozen matters at a time. When the government sought to restrict the advocacy work of Isenberg, he started making films. His documentaries are both informative and dramatic. He films in real-time whenever possible. Isenberg features the people he is helping as part of recreation scenes. Finally, Isenberg either acts or presents a narrative of the situation seen on film.
Each film airs under a Ralph Isenberg Production© or El Gringo Schindler™film label. Each film strives to bring about relief to those foreign nationals seen in the movie, encourage social change and, educate the populous about immigration wrongs.