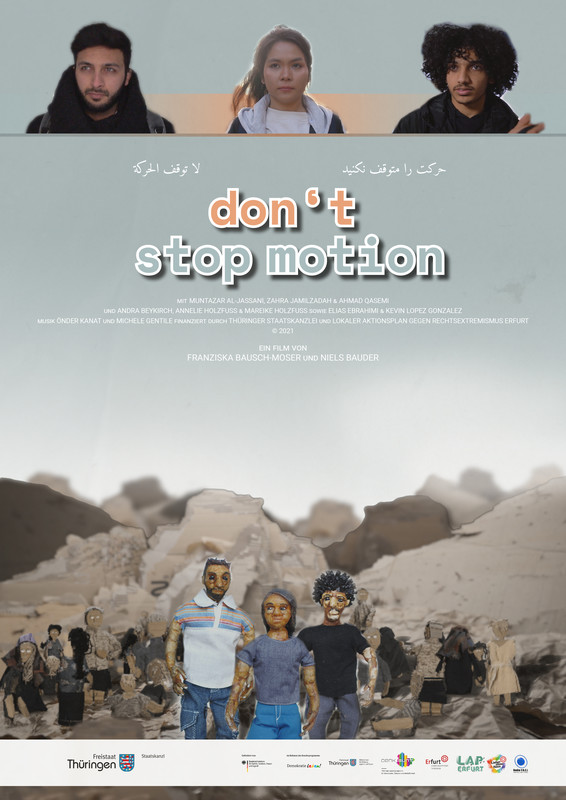 Directed by- Niels Bauder, Franziska Bausch-Moser
Country of Origin- Germany
Runtime- 01:08:20
Cardboard, self-made puppets and the technique of stop-motion. In "don't stop motion", three brave refugees combine these things to tell the moving stories of their journeys to Europe and their new lives in Germany.
In the scenic and sometimes abstract stop-motion sequences, Zahra, Muntazar and Ahmad visualize their experiences and provide a very special insight into their realities. They worked together with five other young people, aiming to reframe the picture of themselves and other refugees alike. This movie is a vivid example of how integration can work and offers new impulses to an ongoing debate.
Director Biography – Niels Bauder, Franziska Bausch-Moser
Filmmakers-duo Franziska Bausch-Moser and Niels Bauder are realizing projects together since they produced their first documentary – "Inshuti, the Story of a Friendship" (2017) – as a graduation film for the university of Tuebingen. Their focus is on the dialogue between cultures and the representation of marginalised groups by displaying personal stories. During their master studies on "Media and Education" in Erfurt they followed up with the potential of film as a tool for self-expression. They are fascinated by the idea of empowering less-heard voices to use media to speak up for themselves. 2019 they held video workshops in Athens, working with young refugees. In this context they first started to use the stop-motion-technique to visualize memories and experiences. In their master thesis on the subject "Migration and FilmEducation" (2020) they proofed that selfmade media productions of refugees also have a high potential to reduce prejudice. In summer 2020 they started the intercultural, media-pedagogical project "don't stop motion" where the eponymous movie was created. In 2022, they want to start a filmtour through cinemas, community centers and classrooms and encourage discussions and interactions.