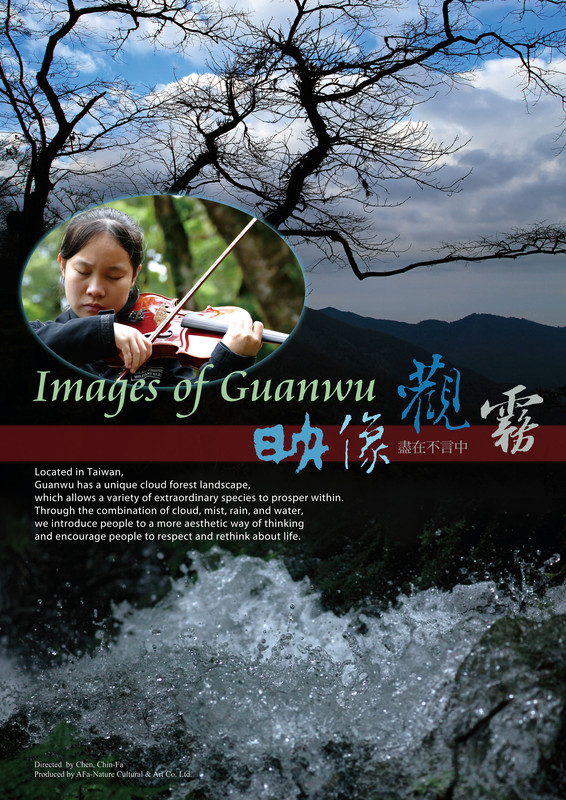 Directed by- Chin-Fa Chen
Country of Origin- Taiwan
Runtime-34:50
Located in Taiwan, Guanwu has a unique cloud forest landscape and thick mist all year round, which allows a variety of extraordinary species to prosper within.
Following the footsteps of two musician sisters who have grown up in the embrace of Guanwu, we see the season changes and the succession of animals in Guanwu. From cloud to mist, we listen to the whispers of wind and birds in the forest. From mist to rain, we see the throbbing of life on the damp moss. From rain to water, we hear the melody of the mountains ringing through the canyons. Through clouds, mist, rain, and water, we hold the heartbeats of the land in our hands.
We hope to turn the beauty of Guanwu into a bridge which visual and auditory senses can communicate. With the unique humanistic aesthetic sense of "poetry in art and art in poetry", we hope to tell the story of the tenacity of life. Looking at the instant spark of beauty when the mist caresses the creatures living in the forest with an artistic perspective, we might have even more imaginative wanderings of the seasons in Guanwu.
But through the decades, Guanwu has experienced the blow of typhoons, mudslides and floods, causing its terrain to change drastically and threaten the well-being of the animals living on the land. We hope to cleanse people's souls and awaken people's awareness of environmental issues through this film. We hope people can reflect more on the changes in the environment and cherish the land we live on.
Director Biography – Chin-Fa Chen
Chin-Fa Chen has more than 30 years of experience in a television commercials, documentary, and film direction. Over the past decade, he has focused on documentaries, hoping to produce inspiring films that combine human compassion, scientific research, and artistic beauty. He uses the interaction between man and nature to show us the importance of environmental conservation and protection.
He has received lots of national awards for his achievements in art and is also renown internationally for his devotion in nature and environmental protection. His works have won him first place in the K.T. Creativity Award and the Natural Literature and Reporting Award, Best Government Publication Award, first place and Best Photography Award in the 34thGolden Harvest Award, the Wildlife Protection Award and Cultural Award in the 21st International Wildlife Film Festival and, the platinum award in 40th WorldFest-Houston International Film Festival, and is also recognized as an artist representative of New Taipei City.