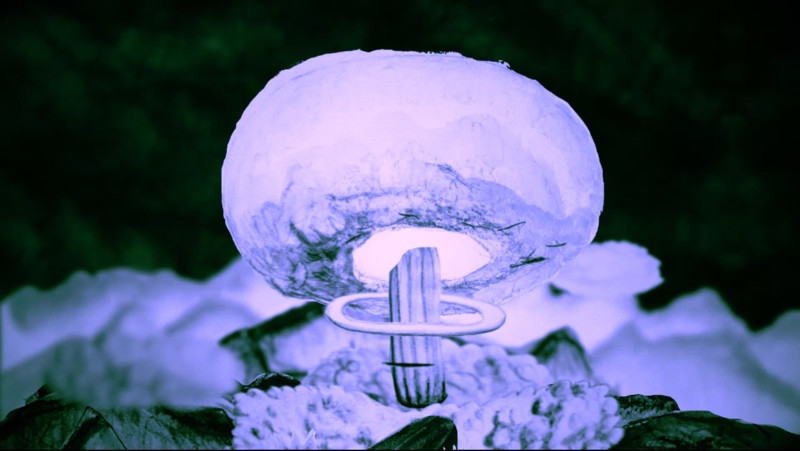 Directed by
Jérémy Griffaud
Runtime
4:51
Landstrength, is composed of a succession of three short animations made from watercolor drawings and photographs of natural environments found on the internet. The whole shows "powerful" landscapes, "muscular" trees or "warlike" mountain massifs.
In this installation the plant world is bodybuilt, ready to fight or to show off. Griffaud uses the cult of the body and the intensive practice of bodybuilding as a material and a language.
Griffaud is inspired by the way some individuals sometimes stage their bodies in front of a mirror or on social networks.
He tries to relate this radical conception of being, which oscillates between a perfect lifestyle and an intimidating way of life, to the contemporary problem of preserving biodiversity.
Director Biography – Jérémy Griffaud
Lives and works in Nice.
In 2015, Jérémy Griffaud created the artists' collective VeryHighStuff
(VHS), a project dedicated to video and scenography.
This project creates international exhibitions every
year. That same year, Griffaud also joined the fanzine Endemic.
In 2017, he graduated from the École Supérieure d'Arts Plastiques
de la ville de Monaco and obtained a National Diploma
of Plastic Expression (Master 2 Art). He also joined the
musician Benjamin Fincher in his project ITOLADISCO to
make live video performances.
In 2018, Griffaud joined the Super Issue collective. Since
then, he has participated in artistic projects related to publishing.
At that time, Griffaud dedicated his time to making
videos and drawing.
In 2019, Griffaud gave up his efforts in photography, and
transitioned towards working with videos centred on his
drawings and digital photographic collages. Griffaud creates
these videos for display in art installations. From these composite
moving images, Griffaud revisits contemporary cultural
broadcasts on social networks, television, and the music
industry.
By questioning the issues of his time, Griffaud parallels, for
example, the preservation of biodiversity and the body-built
staging of oneself as in the projects Enlarge Yourself and Get
Brawn.
By hijacking clichés anchored in the collective imagination,
Griffaud produces absurd or parodic works that draw on the
contours of his singular universe and a fantasy world.