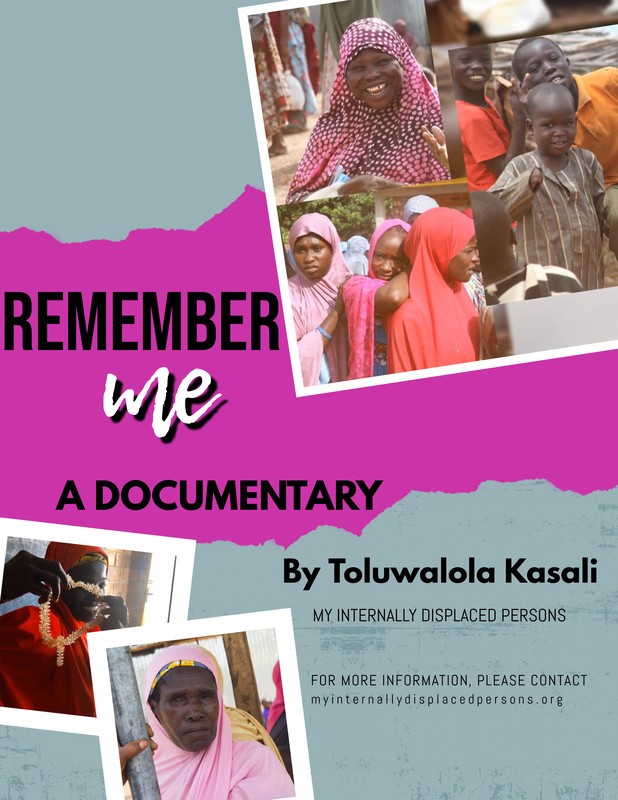 Directed by
Toluwalola Kasali
Country of Origin
Nigeria
Runtime
32:19
This documentary tells the story of people who have been forced to flee their homes due to the Boko Haram conflict in North-East Nigeria and highlights their experiences living in camps and host communities. The ongoing conflict has displaced over 2 million people, and more than 50% of them have been living in this situation for more than five years, making their displacement prolonged. They face abuse, exploitation, and discrimination to meet their basic needs and deal with anxiety about their future. Women and children represent over 75 percent of the displaced population and are particularly vulnerable when in need of food, shelter, hygiene, and menstrual items. Despite years of humanitarian assistance, they continue to depend on infrequent relief distributions to meet their daily needs and are unable to become self-reliant, which affects their self-esteem and ability to rebuild their lives. In addition to highlighting their experiences, this documentary also proffers solutions that combine psychosocial and vocational skills support to achieve self-reliance by closing the transition gap from aid-dependence to self-reliance. It showcases solutions that empower displaced persons to improve their state of mind, earn a living, and rebuild their lives with dignity.
Director Biography – Toluwalola Kasali
Toluwalola Kasali is the Founder of My Internally Displaced Persons, a cause, focused on reintegrating forcibly displaced persons into society with dignity. She is an emerging policy leader on forced displacement and an international speaker who has addressed global audiences at high-level meetings of the WHO, World Bank, and the UK government. She has also engaged Members of the UK Parliament and the International Development Committee of the House of Commons on policy issues regarding forced displacement as part of the British Council Future Leaders Programme.
Toluwalola is the author of the book "My Name is Aisha," which details real-life stories of people forced to flee their homes by the BokoHaram Conflict. Through her initiatives, she has supported over 6000 internally displaced persons providing humanitarian, educational, psychosocial, skills acquisition, grants, mentorship, and women empowerment support.
She has published several reports on Internally Displaced Persons. In 2015, she published her first report titled, "An Integrated Approach to Rehabilitating Internally Displaced Persons with Dignity." Which was referenced by the World Bank publication, "Mental health amongst displaced persons and refugees: making a case for action at the World Bank Group." It was also featured on the World Bank Blog and the Huffington Post in an article titled "Mental health services in situations of conflict, fragility, and violence: What to do?" She also published a report titled "A Multisectoral Approach to Internal Displacement." and an expert opinion for the Internal Displacement Monitoring Centre (IDMC) on lessons learned to close the transition gap from aid-dependence to self-reliance.
Toluwalola holds an MSc in Public Policy from the London School of Economics, winning the Lloyd Gruber Prize for the Best Policy Paper in the School of Public Policy for her paper on how to achieve self-reliance for internally displaced persons. She is also certified in Core Humanitarian Skills and Safeguarding Essentials.

Read more about her here: https://wp.me/Pa3rxo-ok