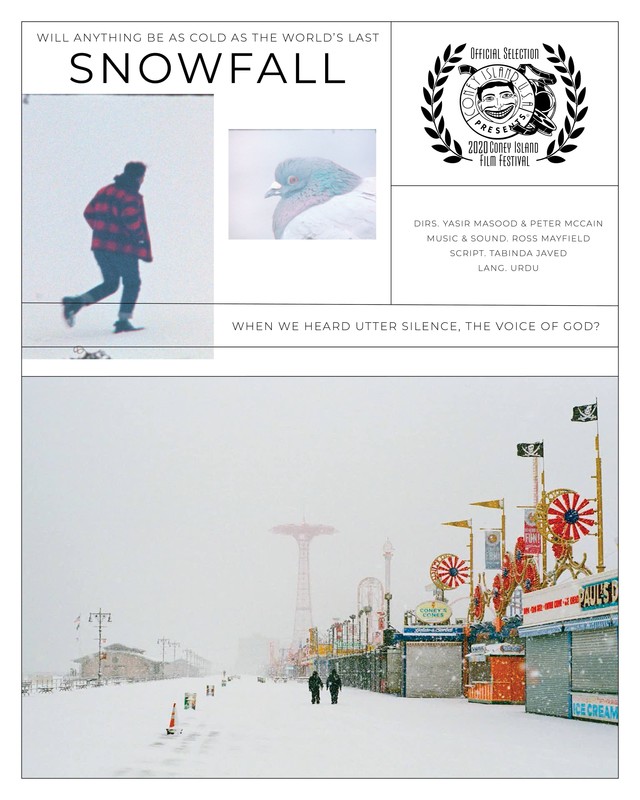 Directed by
Yasir Masood, Peter McCain
Country of Origin
United States
Runtime
3:15
Yasir Masood and Peter McCain's Snowfall (2020) is a correspondence of poetic letters in Urdu between mother and son. Written seasons apart, their words dance around their shared emotions on migration and steadfastness, nostalgia and loss, belonging and distance, and horizons of potential futures so close, one might step into them.
Director Biography – Yasir Masood, Peter McCain
Yasir Masood and Peter McCain are both from Texas but met in Brooklyn, New York.
Yasir Masood is a self-taught filmmaker whose work explores migration, masculinity, and the Muslim-American experience. His short film, "The Last Hunt," based on his grandfather's migration to America, premiered at Austin Film Festival in 2019. Yasir was formerly the Director of Content at International WOW Company, a feature documentary studio that produces content on social justice and the threat of climate change, and the Campaign Producer at Mark Ruffalo's organization, We Stand United, where he engineered national voting PSAs for the 2018 Midterm elections.
Peter McCain is a visual artist, director, and curator working in music video production and Broadway and experimental theatre advertising. His work explores cultural consciousness, political anxiety, and environmental catastrophe. Peter is Editor in Chief of BATSHIT TIMES magazine, a platform for experimental artforms and emerging practices like biotechnology, generative art, and real-time multimedia software.