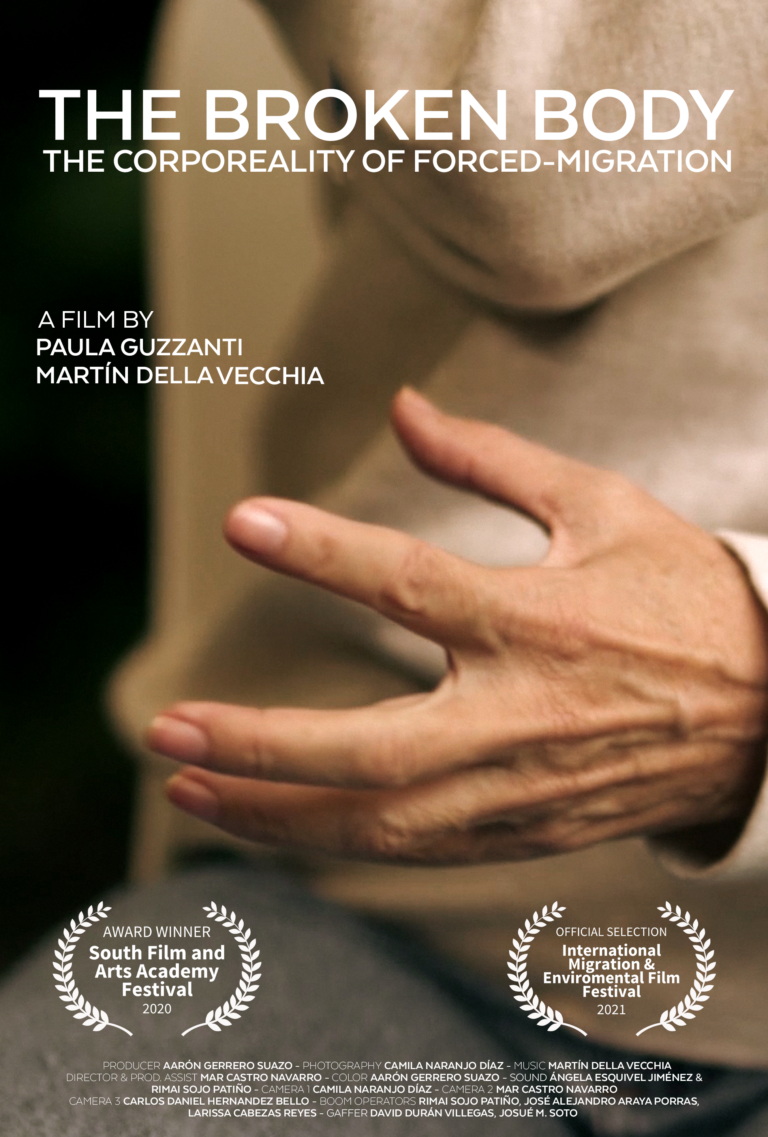 Directed by
Paula Guzzanti
Martin Della Vecchia
Country of Origin
United Kingdom
Runtime
27:10
'The Fractured Body' exposes the corporeal experiences of Nicaraguan refugees living in Costa Rica since the violence that broke out across Nicaragua after the marches of April 2018. The film threads the personal experience of dance artist-scholar Paula Guzzanti as she travels to the capital San Jose and Upala, a city in the North border between Costa Rica and Nicaragua, to facilitate a dance wellbeing programme to young people and women seeking political refuge. Using the language of dance improvisation and poetry, the film shows the emotional journey of the facilitator as she tries to understand the reality of the body for refugees. The physical an emotional encounter of participating in dance allows the more intimate stories of fear and pain to be shared for the camera. The need for protecting the identity of refugees suggested the poetic imagery of the partido (fractured / splatted ) body. None of the faces of the interviewee are revealed on the screen; their testimonies are captured through the gestural expressive force of body language. Filmed in July 2019, this Costa Rican-UK production gives voice to the needs of bodies that face the danger, fear, and hardships of force migration.
Director Biography – Martin Devek
Martin Devek is a Music Composer and Visual Artist interested in the improvise dynamic of things set in motion, and their capacity to awaken his curiosity for music composition. His compositions were performed at the National Concert Hall, the MAC Theatre, Ulster Museum, Dance Ireland, Belfast Children's Festival 2015, 2016, and 2018 and his music was broadcasted in BBC Radio 5 and BBC Radio Ulster.
His films include 'Me and My Thoughts'- Award Winner at Awareness Festival, LA and at the West Virginia Film Festival (2017); Finalist at Cardiff Film Festival (2017), Wales and FastNet Film Festival, Cork (2016); "Me and My Thoughts" (2016) and "None" (2006). His Fine Art pieces were exhibited in solo and groups across UK and Ireland. His works are held in private collections in the UK, Ireland, Germany, United States, and Argentina.

Martin holds a BA in Music, from CONSUDEC (Argentina), a Masters Certificate in Composing music for Film and TV from Berklee College of Music (USA), and an MA in Computer Music from Maynooth University (Ireland). In 2018 he won a four-year scholarship to pursue a PhD in Music Composition at Dublin City University.