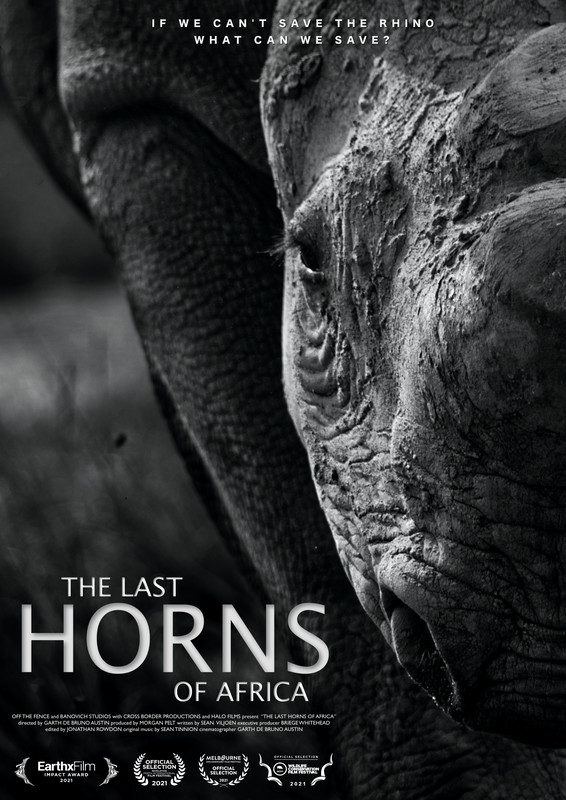 Directed by Garth de Bruno Austin
Country of Origin South Africa
Runtime: 01:37:46
With unprecedented access, THE LAST HORNS OF AFRICA is a gripping and intimate look at the current rhino poaching war raging across Africa. We follow the journeys of two conservation heroes who put their lives on the line to protect the rhino in their care, all the while a top-secret, covert operation endeavours to bring down South Africa's most notorious rhino poaching syndicates.
Hidden away in South Africa is the worlds largest rhino orphanage, run by Petronel Nieuwoudt, who deals with the aftermath – the orphaned rhino calves knowingly left for dead by poachers. Through her eyes, the viewer gets an insight into the incredible bonds that are formed and the heart wrenching reality of where these calves have come from.
Meanwhile, in Kruger National Park – ground zero for rhino poaching, Don English, a Veteran Ranger commands his brave team on the front line of the rhino horn war as they set out on an almost insurmountable task of protecting the rhinoceros in an area the size of Israel.
From never before seen footage of South Africa's largest undercover wildlife investigation and interviews with poachers, the filmmakers risk their lives as they are thrust into the underground world of illicit rhino horn deals organised by South Africa's ruthless rhino poaching Kingpins. THE LAST HORNS OF AFRICA is a first hand look at the complexities and moral debates of contemporary conservation, which has found itself entangled in the dark web of corruption and the illegal wildlife trade.
Director Biography – Garth de Bruno Austin
Garth de Bruno Austin is an award-winning Director, Cinematographer and Co-Founder of Cross Border Productions, which has produced the ground-breaking feature documentary on rhino poaching called 'The Last Horns of Africa.' He has also worked on multiple factual television series, documentaries and commercials, including 'From Sky to Sea,' 'Greenfields' and 'Impossible Planet.' Growing up on the doorstep of Kruger National Park in South Africa, Garth forged a deep connection with the natural world and the people in it, which has inspired him to help tell their stories through film.