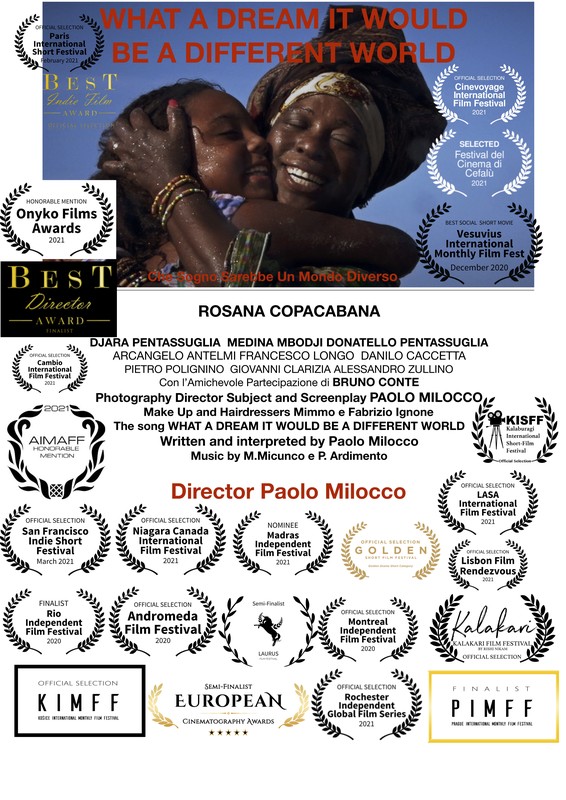 Directed by
Paolo Milocco
Country of Origin
Italy
Runtime
7:49
An African mother arrives with her daughter in the land of hope, after having experienced moments of terror
and profound suffering that the sea and life
they reserved them. They are alive and can finally embrace and hope for a better future.
Suffering does not spare anyone and under the starry mantle we are all the same, we are human beings
looking for solidarity.

Director Biography – Paolo Milocco
CURRICULUM
PAOLO MILOCCO
Actor Director Singer

CINEMA:
2013 "Fasten your Belts" by F. Ozpetek
2014 "Le Frize Ignoranti" by A. De Leo
2015 "Have you ever been to the Moon" by Paolo Genovese
2015 "Latin Lover" by C. Comencini
2015 "Loro chi" by Francesco Miccichè and Fabio Bonifici
2015 "I love only you" by Marco Ponti
2015 "Antonio's Syndrome" by Claudio Rossi Massimi
2016 "Quo Vado" by Checco Zalone and Gennaro Nunziante
2017 "Tulips" by Marlene Gorris
2018 "Rich in Fantasy" by Francesco Miccichè
SHORT FILMS-SHORT:
2014 "Randagio" by Giancarlo Doronzo
2015 "The Land of Superstition" by Luigi Boccia
2019 "The Heart Has No Borders" "The Heart Has No BOUNDARIES" Directed by Paolo Milocco
2020 "Holidays" Vacanze Directed by Paolo Milocco
TV FICTION:
2010 "Rai 1 Commissario Montalbano" by Alberto Sironi
2013 "Canale 5 Beautiful" by Michael Stich
2014 "Rai 1 Kissed by the Sun" by Antonello Grimaldi
2015 "Rai 1 This is my country" by Michele Soavi
2015 "Rai1 If they tell you about me" by Maria Tullio Giordana
2015 "Rai" The System "by Carmine Elia
2015″ Rai I do not give up "by Enzo Monteleone
2016″ Rai 1 Red Bracelets "by Giacomo Campiotti
2017″ Rai 1 La Strada di Casa "by Riccardo Donna
2018 "Canale 5 Furore 2" by Alessio Inturri
2018 "Canale 5 Renata Fonte" by Fabio Mollo
SPOT:
2014 "Orangina" with Richard Gere
VIDEOCLIP:
2015 Mon Choix by Emilyan
DIRECTOR-DIRECTOR:
2019 "The Heart Has No Borders – The Heart Has No BOUNDARIES "
2020″ WHAT A DREAM IT WOULD BE A DIFFERENT WORLD
What A Dream Would Be A Different World "
2020″ HOLIDAYS "Holidays