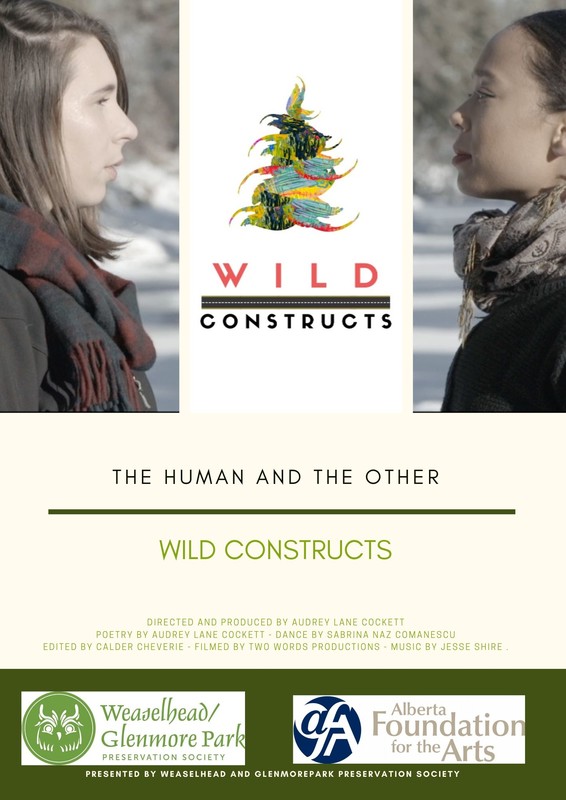 Directed by
Audrey Lane Cockett
Country of Origin
Canada
Runtime
6:21
"Wild Constructs: The Human and The Other" is short film featuring
spoken word poetry and contemporary dance that embodies wild beings, sounds, and spaces. Created and filmed in a stunning and biodiverse park undergoing significant and rapid changes brought on by construction of a highway, this film explores ecological changes and offers an immersive window into the relationships between "The Human" and "The Other". The poetry and dance in this piece is informed by biological impact studies and scientific expertise of Park Naturalists of Weaselhead and Glenmore Park Preservation Society. The crisp winter cinematography and compelling original score, featuring wild and urban sounds from field recordings in the park itself, gives heart and life to a story of environmental change, loss, conflict, connection and beauty.
Poetry by Audrey Lane Cockett
Dance by Sabrina Naz Comenescu
Directed & Produced by Audrey Lane Cockett
Edited by Calder Cheverie
Filmed by Jay Lawrance – Two Words Productions
Filmed on Treaty 7 Land
Presented by Weaselhead and Glenmore Park Preservation Society
Funded by Alberta Foundation of the Arts
Director Biography – Audrey Lane Cockett
Audrey Lane Cockett is a spoken word poet, educator, soundscape artist, and artistic director based in Treaty 7 land, Calgary AB. Her work is rooted in wild, both outside and in. Through her work in education, film, soundscape, and poetry she is a passionate advocate for mental health awareness, social equality, love, and care for the natural world.
She is a poetic educator, working with schools to create and perform poetry. She is also a park naturalist teaching students about the natural world from K-9 in the Elbow River Valley. Audrey Lane also does programs that blend science and art together to deepen our understandings of each. She believes art is an avenue for strengthening community, education, and connection to place.
She directed and produced the video series 'Wild Constructs' (presented by Weaselhead Park Preservation Society), as well as directing and creating shows such as 'Weaselhead Soundscapes', which was featured in the Beakerhead Festival, 'Surface Tension' in Ignite Festival, and 'Outside In' in Swallow A Bicycles series Discomfort Lab.
She has delivered workshops with Alberta EcoTrust's 2019 Environmental Gathering, University of Calgary's Education Program, and the National Power Shift Conference in Edmonton, among others.
She is an alumnus of the Banff Centre's Spoken Word Program, the Canadian Wilderness Artist Residency, and was co-captain of Calgary's 2017 Slam Poetry Team that represented and placed 6th nationally. Her work has been published in the Journal of Wild Culture, Oratorealis, and Fight Evil With Poetry Press.
Audrey Lane has participated in several national spoken word festivals, as well as several interdisciplinary festivals (Toronto Pride, IGNITE Festival of Emerging Artists, Fluid Movement Arts Festival, Victoria Fringe Festival, Victoria Spoken Word Festival, Beakerhead Festival). Internationally, she has competed and featured in several of the Eastern states, immersed and studied in the poetry-jazz fusion scene in Boston, won at the Bowery Poetry Club in NYC, and at the Slam in London, England hosted by the Royal Academy of Dramatic Arts.
She is invested in exploring art and its intersections with science, community, learning, healing, and transformation