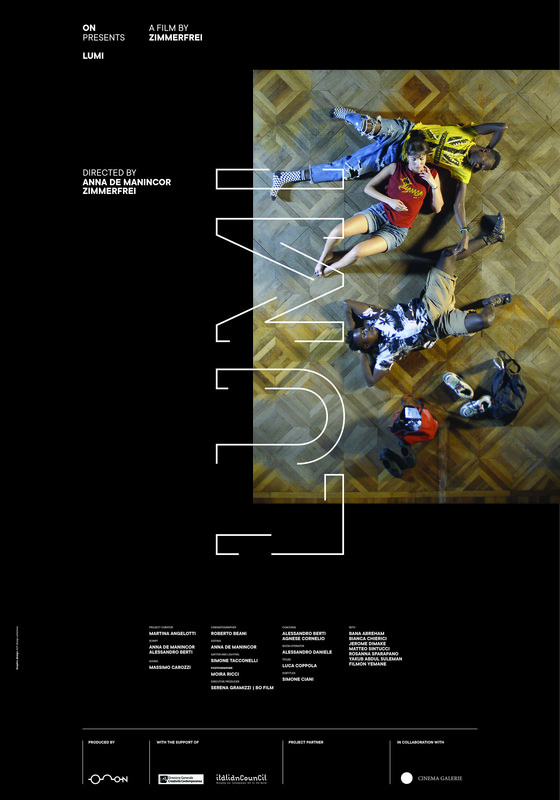 Directed by
Anna de Manincor, ZimmerFrei
Country of Origin
Italy
Runtime
21:41
Bird's-eye view of a historic Italian residence, a ghostly and fairytale setting in which three twentysomethings, after having secretly entered the palace, spend a whole day lying on the floor, rolling over each other and talking of the things they care about most.
Staged documentary experiment that weaves the true and rewritten stories of three youngsters: Yakub was born in Nigeria, Bianca in Italy and Omar in Ghana, but they are all becoming adults in Bologna, Italy.
Director Biography – Anna de Manincor, ZimmerFrei
The ZimmerFrei collective was founded in Bologna in 2000 and its active members are Anna de Manincor (artist and filmmaker) and Massimo Carozzi (sound designer and musician).
ZimmerFrei's practice combines different languages and ranges from documentary films to video art, sound and environmental installations, photographic series, performances and installations in the public space.
ZimmerFrei's recent works are dedicated to urban and rural contexts in transformation, observing temporary communities and citadels taking shape, fading away or transforming again. Exploring the boundaries between public space and private territories, ZimmerFrei portrays everyday situations of living and working, seeking for sudden and unstable epiphanies.
FILMOGRAPHY
2020
Saga | 1.2.3.4, (IT), documentary series, by Anna de Manincor | ZimmerFrei (production ERT-Emilia Romagna Teatro – project Atlas of Transitions, cofounded by Creative Europe Programme EU), 77'
LUMI, (IT) three channels videoinstallation and medium length feature, by Anna de Manincor | ZimmerFrei (production Italian Art Council Award and ON), 48'
2018
Almost Nothing | CERN Exprimental City, (IT – F – B), documentary, by Anna de Manincor|ZimmerFrei (production Bo Film, Tita productions, Associate Directors), 74'
2017
La valle, (IT), documentary, by Anna de Manincor|ZimmerFrei (production PerAspera and ZimmerFrei), 25'
Family Affair, two channels video installation, by ZimmerFrei (production Open Latitudes Network), 120'
2016
La ville engloutie, (F), documentary, by Anna de Manincor|ZimmerFrei, (production Chalon dans la rue, Chalon sur Saône and In Situ network), 64'
2015
Steadfast on our sand, (NL), documentary, by ZimmerFrei (production Oerol Festival, Terschelling and In Situ network), 68'
2014
La beauté c'est ta tête, (FR) documentary, by ZimmerFrei (production Lieux Publics, Marseille and In Situ network), 60'
Intervallo, (IT) short movie (production SKY Italia), 10'
2013
Hometown | Mutonia, (IT) documentary by ZimmerFrei (production Santarcangelo •13, Regione Emilia-Romagna Film Commission), 69'
2012
Temporary 8th, (HU) documentary, by ZimmerFrei (production Festival Placcc, Budapest and In Situ), 53'
2011
The Hill, (DK) documentary, by ZimmerFrei (production Metropolis Biennale 2011, Copenhagen – In Situ), 40'
2010
LKN Confidential, (B) documentary, by ZimmerFrei (production Kunstenfestivaldesarts, Mokum, BNA/BOOT – Bruxelles), 40'
2009
Panorama Harburg, (D) video art, by ZimmerFrei (production Harburger Bahnhof Kunstverin), 30'
2008
Ghost Track, (BE) video installation (production Manifesta7, Fondazione Roma Europa, Monitor), 18'
Prima della Musica, video installation (production Fondazione Musica Per Roma), 5'
Domestic Exiles, video installation, 30'
2007
Memoria Esterna, (IT) documentary (production C/O Careof, Milano), 27'
The Colony, (GR) video (production Festival Videodance07, Athens), 30'
2006
why we came, (IT) video art (co-produzione Museo MAN Nuoro and Monitor – Rome), 18'
Narcodive, (IT) video for smart phones (production Nokia – Connect to Art)
2005
Panorama_Bologna, video art (production Bè – Bologna Estate), 30'
Panorama_Venezia, live media (production Fnv, Plug, Nuova Icona, festival Reaction for 51° Biennale d'Arte di Venezia – EXTRA 51), 30'
2004
Panorama_Roma, video art (production Monitor video & contemporary art), 24'
2002
Stop Kidding, video installation by Anna de Manincor|ZimmerFrei, 6' (production Galleria Civica di Trento)
2000
N. K. – Never Keep Souvenirs Of A Murder, (IT) video installation, 30' (co- produzione Festival TTV Riccione and ZimmerFrei)
AWARDS
Cantica 21 (IT)
LOOP Barcelona (E) 2020
Italian Art Council 2019 (IT)
Audience Award, Italian in Doc, Brussels, 2019
Visions du Réel, Nyon (CH), Inter-religious Jury Prize 2018
Signes de Nuits, Paris (F), Best DOC Signes Award 2018
Visioni Doc, Bologna 2017 – First Prize, Best Documentary
Salina DOC Festival, Salina (IT) 2014, Best Documentary
Life After Oil Festival, Martis (IT) 2014, Best Soundtrack
Gotham Prize, New York 2012
Premio Terna/AMACI, 2010
Visioni Doc, Bologna 2009 – First Prize, Best Documentary
First Prize SEAT Pagine Bianche d'Autore (I) 2007
Festival Videopolis, Padova (IT) First Prize, 2007
Iceberg, Bologna (IT), First Prize Cinema and Video Section, 2001
Festival Opere Nuove, Bozen (IT) Best Film, 2001