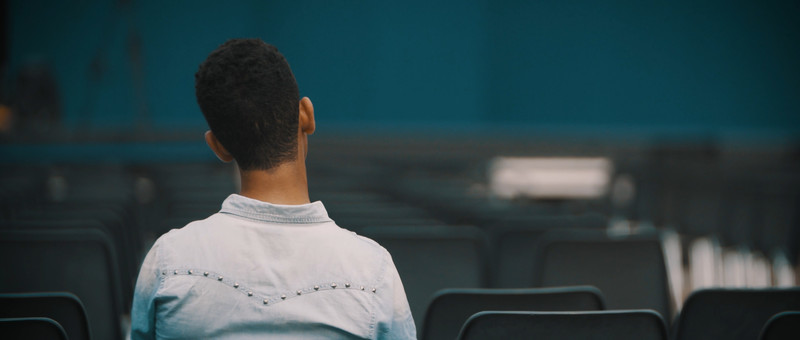 Directed by Anna de Manincor , ZimmerFrei
Country of Origin Italy
Runtime- 30:00
What is it like to live in a city you've never seen before? What is it that makes a place that particular place, if we remove the centrality of sight? The city is Bologna, between 2019 and 2020, explored by the perception of a visually impaired boy waiting for the recognition of his Italian citizenship and a kid who suddenly finds herself spending her days at home.
Director Biography – Anna de Manincor , ZimmerFrei
Anna de Manincor | ZimmerFrei
Artist, author and filmmaker
Born in Trento (Italy) in 1972, lived in various places in Europe – for work and for choice – including Bologna, Marseille, Milan, Budapest, Brussels and a Greek island of the Dodecanese. Professor of Videomaking at NABA Academy in Milan and Videosculpure at the Academy of Fine Arts in Bologna. Since 2000 works within the collective ZimmerFrei, founded with sound designer Massimo Carozzi and artist Anna Rispoli and realized several documentary films, video installations, art exhibitions, performances and public art projects. Exploring the boundaries between public space and private territories, ZimmerFrei portrays everyday situations of living and working, seeking for sudden and unstable epiphanies. ZimmerFrei's recent works are dedicated to urban and rural contexts in transformation, observing temporary citadels and communities taking shape, fading away or transforming again.
Most of the filmworks and art projects are created on site thanks to residence production grants (Belgium, France, Switzerland, The Netherlands, Denmark, Hungary, Poland, Portugal, Italy, Greece and China) or with international co-production (Italy-France-Belgium).
Since 2011 the long term working cycles by ZimmerFrei have been produced with European funds, in the frame of InSitu Network (Temporary Cities: series of city portraits, 4 documentary films), Open Latitudes (Family Affair, live format with local participants in 8 European cities) and Atlas of Transitions – New geographies of a cross-cultural Europe (Saga, doc film in 4 episodes).
Awards
• Cantica21, Italian Ministry of Culture 2020
• A-Place LOOP Production Award 2020, Barcelona
• Italian Council Award, 2019
• Audience Award, Italian in Doc, Brussels, 2019
• Signes Award for Best Documentary, Festival Signes de Nuit, Paris (F), 2018
• Interreligious Award, Visions du Réel, Nyon (CH), 2018
• Follower Award, Biografilm Festival, Bologna, 2018
• Festival Visioni Italiane – Doc Award, Bologna (I), 2017
• Best Film – Salina Doc Festival (I), 2014
• Best Film Soundtrack – Life After Oil Festival 2014
• Gotham Prize, New York 2012
• Premio Terna 03/AMACI, 2010
• Visioni Italiane 2009 – Best Documentary
• Seat Pagine Bianche, First Prize 2007
• Best Film – Festival Videopolis (I) 2007
• Iceberg – Cinema and Video Section, Bologna 2001
• Best Film, Festival Opere Nuove, Bozen (I) 2001