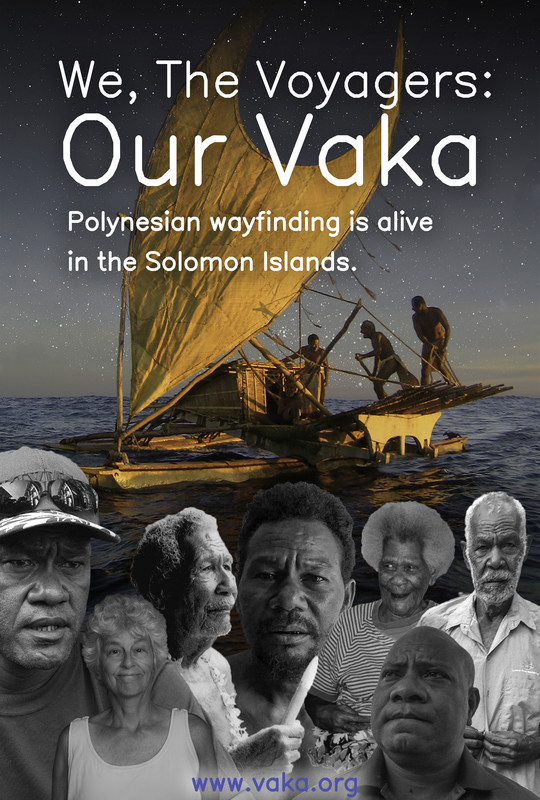 Directed by Marianne "Mimi" George, Heuionalani Wyeth, Jacob Penchansky
Country of Origin United States
Runtime- 56:15
We are the crew of Lata, the Polynesian culture-hero who built the first voyaging canoe and navigated across the Pacific. We use only ancient designs, materials, and methods, and we invite everyone to reconnect with ancestors and sustainable lifeways. Come join the crew of the real Moana!
Part 1. We, the Voyagers: Our Vaka (56 minutes 15 seconds)
We, Polynesian voyagers of Taumako, Solomon Islands, share our history, motivations, and skills, through story-telling, canoe building, and wayfinding. We recall our ancestors, who made the greatest human migration. We use only designs, materials, and methods of our culture-hero, Lata, who built the first voyaging canoe (vaka) and navigated to distant islands. After Europeans took over we became isolated and unsustainable. In 1996 Paramount Chief Kaveia, our most experienced navigator, led us in planting gardens, feeding workers, making rope from plants, weaving and sewing sails, protecting our trees, adzing parts for voyaging canoes, and lashing them together. Kaveia also enlisted an anthropologist to help us make films. After Kaveia died in 2009, Chief Holani became our new Lata, and prepared us for an open ocean voyage. Our story of Lata teaches that everyone is welcome in Lata's crew, and that we can avoid making key mistakes as we prepare to connect with long-lost family and new friends on faraway shores.
Director Biography – Marianne "Mimi" George, Heuionalani Wyeth, Jacob Penchansky
Marianne "Mimi" George, PhD, is a cultural anthropologist and remote, blue-water sailor who supports revival of ancient voyaging practices. George documented the articulation of spiritual power in the ritual cycle of Austronesian people of Papua New Guinea: the experience of a small, mixed gender group wintering a sailboat in frozen in Antarctic sea-ice and doing scientific projects and as photographer for National Geographic Magazine; ancestral voyaging connections of sea-hunters and herders both sides of Bering Straits; and the efforts of Polynesian elders to continue an unbroken chain of training new generations to build and navigate using only ancient materials, designs, and methods in the SE Solomon Islands. George cruised, raced and delivered sailboats for 15 years, sailed with Dr David Lewis for 13 years, and with Paramount Chief Koloso Kaveia for 16 years. .